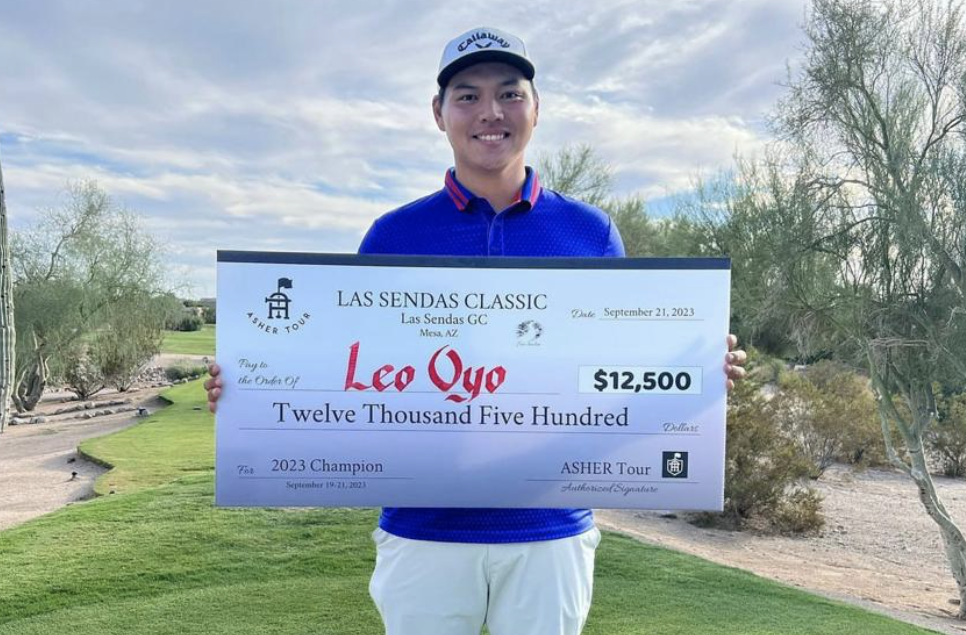 Leo Oyo
Japan /
Oklahoma State
2021-22 (Senior): Tied for 12th place at the Fighting Illini Invitational … closed with a 68 to finish at 212 … tied for 25th place at the Colonial Collegiate Invitational with a 214 tally … posted a 3-2 mark at the Big 12 Match Play Tournament … finished with a 1-under total of 212 which included rounds of 68 and 66 to tie for 32nd place at the Bash at the Beach … tied for 10th place at the Broncho Invitational with a 149 score … tied for seventh place at The Indy with a 147 total … tied for 17th place at the Thunderbird Invitational … posted a 3-under total of 210 with scores of 72, 68 and 70.
2020-21 (Junior): Tied for 66th place at the Timuquana Collegiate after posting a 226 total … tied for 25th at the Git R Done Invitational where he competed as an individual … opened with a 70 before finishing at 221.
Amateur/Before OSU: Tied for fourth place at the 2021 Sunnehanna Amateur with a 6-under 274 total which included a closing 64 … tied for ninth place during the stroke play portion of the 2021 Western Amateur Championship … carded a 7-under total of 273 to advance to match play … shared 13th place at the 2021 TMGA Amateur Championship with a 1-under total of 283 … received honorable mention All-America status as a sophomore … won The Prestige at PGA West in 2020 … carded a 202 total, which included rounds of 68, 68 and 66 … was named the Mountain West Men's Golfer of the Week following the performance … finished inside the top 20 on three other occasions as well … tied for 14th place at the William H. Tucker Intercollegiate and shared 17th place at the Alister MacKenzie Invitational … finished fifth at the Bill Cullum Invitational after posting rounds of 70, 68 and 68 … competed in five events as a freshman for San Diego State … tied for 12th at the Saint Mary's Invitational after carding a 211 total that included a 65 during his second round … tied for 20th place at the Lamkin San Diego Classic in 2019 … was a member of the West squad that captured the team title at the AJGA Wyndham Cup in 2018 … was medalist at the Bishops Gate Golf Academy Boys Junior Championship in 2018 at Innisbrook Golf Resort … tied for the second place at the 2017 Daniel Berger Junior Championship … earned a two-stroke victory the 2016 Innisbrook Christmas Junior.
Personal: Born March 29, 1999 in Tokyo, Japan … son of Yoshie and Akio Oyo.