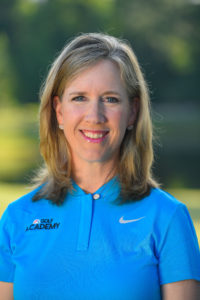 Cheryl Anderson, the 2006 National LPGA Teacher of the Year, brings a unique combination of teaching and playing skills to the Mike Bender Golf Academy in Lake Mary, FL. A native of Connecticut, she taught in the Metropolitan New York area from 1992-2007.
In 2017, Golf Digest named her one of America's Top 50 Teachers. In 2013, GOLF Magazine named her one of the Top 100 Teachers in America. She was also named one of the Top 10 Women Teachers in America, the Metropolitan PGA Section's 2007 Teacher of the Year and was one of the first 15 instructors in the world to be certified as a golf coach by the Certified Golf Coaches Association.
This past year, she has taught five of the top 100 junior girls in the country including the number one ranked junior girl whom she has taught for nearly a decade.
Anderson also is one of the best woman club pro players ever. In 2004, she earned the Met PGA Section Womens' Player of the Year award for a record fifth consecutive season.
Her play in 2002 was historic as she became the first women to win all three of the Metropolitan PGA women's events in one season: The Metropolitan Women's Open, the Met Women's Stroke Play Championship and the Met Women's Match Play Championship. She also was runner-up in the LPGA's National Club Professional Championship in Southern Pines, North Carolina and in the LPGA's Northeast Section Championship in Manassas, Virginia. 
Another professional highlight for Anderson was being named The Journal-News Suburban Golfer Magazine's "Golfer of the Year" in 2001. Her season that year included making the cut at the LPGA Tour's Betsy King Classic in Pennsylvania (the only club pro to make a cut on the LPGA Tour that season) and winning her first Metropolitan Woman's Open.
A graduate of Rutgers University, Anderson competed on the golf team for four years, including two as team captain. Before turning professional in 1992, she qualified for the U.S. Women's Amateur and U.S. Women's Public Links Championships.
Anderson is a Class A member of both the LPGA and PGA of America. She has authored numerous instruction articles in Golf for Women Magazine, Met Golfer Magazine and Golf Digest Woman Magazine. Her first book Teach Yourself Visually Golf was published in 2007.

​
Certifications & Awards:
                       
​         
​